MWC 2010 : Sony Ericsson présente le Xperia X10 mini et le Xperia X10 mini pro
On s'attendait à voir débarquer le Sony Ericsson X10 version miniature (le Robyn), la surprise vient du fait que finalement, deux minis X10 seront commercialisés : le Xperia X10 mini le Xperia X10 mini pro. Le Mobile World Congress (MWC) vient à peine de débuter et nous avons déjà de belles annonces de la part des constructeurs.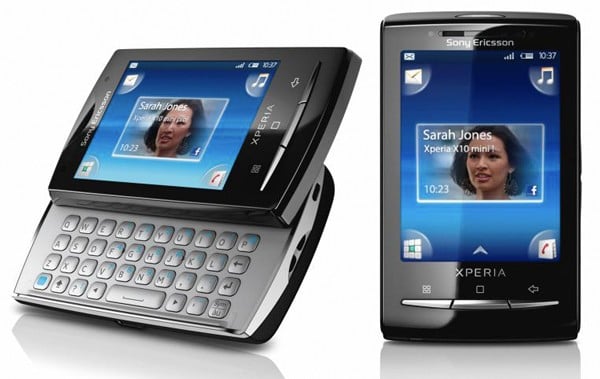 Le Sony Ericsson Xperia X10 mini sera disponible en noir, blanc, jaune, rose, rouge et argent. Avec une "form factor" très proche du X10 (le test arrive très vite) mais quelques centimètres en moins, un processeur 600MHz Qualcomm MSM7227, 128 Mo de RAM , du WiFi, de la 3G et du EDGE, l'écran est un tactile 2,55 pouces QVGA (240 par 320 pixels) avec technologie résistive, on trouve à l'arrière un appareil photo 5 mégapixels et un slot de microSD (il sera vendu avec une microSD 2Go), et pour le son ça sera un "Portable Stereo Speakers MS450" et "Hi-Fi Headset MH810". Avec 88 grammes et 83 x 50 x 16 mm, il est réellement "mini".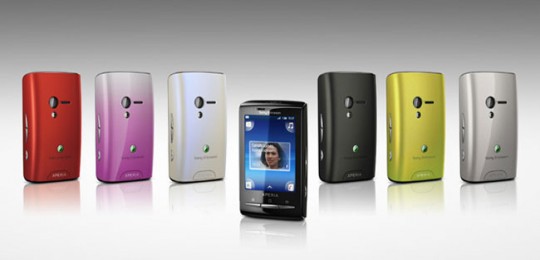 Le Sony Ericsson Xperia X10 mini pro est semblable au "mini", mais il porte un nom encore plus long, il sera disponible seulement en noir et rouge, et possède par contre un clavier en slide AZERTY, un peu plus épais et biensûr plus lourd avec 90 x 52 x 17 mm de dimensions et 120 grammes.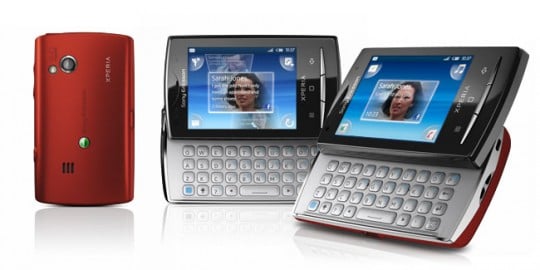 On retrouve l'environnement Sony Ericsson Timescape, qui permet de gérer tous vos réseaux sociaux mais aussi tous vos messages, e-mails, contacts... avec une interface très graphique, le tout tourne sous Android 1.6, on ne sait pas une mise à jour vers Android 2.1 sera proposé mais avec de telles caractéristiques je ne parierai pas dessus.
Communiqué de presse en anglais et une vidéo de démonstration à la suite.
? Sony Ericsson grows its family of Communication Entertainment phones with compact versions of Xperia™ X10 for the first half of 2010
? Xperia™ X10 mini and X10 mini pro define a new user experience - ultra-compact - whilst still offering best-in-class communication entertainment performance
? Smaller than a credit card, smart and unique with Sony Ericsson Timescape™ application and an intuitive 4 corner touch screen user interface
February 14, 2010 - Barcelona – Today sees the announcement of Xperia™ X10 mini and X10 mini pro, compact versions of Xperia™ X10, which will deliver powerful and application packed mobile phones into the industry. By introducing mobile phones that are both compact and clever, Sony Ericsson is challenging the norm and defining a brand new offering that combines high specification features with a version of Sony Ericsson's powerful UX platform specifically designed for smaller devices.
Xperia™ X10 mini and X10 mini pro with slide out QWERTY keyboard offer an open and intuitive communication entertainment experience and build on the human curvature design philosophy debuted by the Sony Ericsson Xperia™ X10. Combining the Android platform with signature applications and a customisable UX platform, communication truly becomes entertainment with these new mobile phones. To enhance the experience, pick and choose from a multitude of applications at Android Market™ and co-create a mobile phone experience that is entirely unique. Users can go one step further and customise the home screen's four corners and widgets to access the most needed applications for limitless possibilities.
The two sister mobile phones incorporate the signature application Sony Ericsson Timescape™ which brings all communication together in one place so users can see at a glance text messages, missed calls, and Facebook™ and Twitter updates, without having to open lots of different applications. The interactive music player also uses the "infinite button" to pull together all music content from the music store and YouTube™ – a smart way to search for new tracks from a favourite artist.
"There has been an enormous buzz around Xperia™ X10 so it is really exciting to be already unveiling compact versions of this powerful proposition." Said Rikko Sakaguchi, EVP and Chief Creation Officer, Sony Ericsson. "With the X10 mini and X10 mini pro we have pushed the boundaries of what is possible with smaller devices and are giving consumers exactly what they want; two high performance mobile phones with a fully customisable user experience platform and a stunning ultra-compact design."
Xperia™ X10 mini and X10 mini pro
Sony Ericsson Timescape™ - brings together all communication in one place
Four corner control – applications, calls, web, the consumer decides. Four customisable icons for ultimate control
5 megapixel camera and video - share creations via the web
Music player links to music stores and YouTube™ - access the world of music
Android platform - with Google™ services and Android Market™
QWERTY keyboard - slide and text for quick and easy messaging (Xperia™ X10 mini pro only)
X10 mini and X10 mini pro supports HSPA 900/2100 and EDGE 850/900/1800/1900, HSPA 850/1900/2100 and EDGE 850/900/1800/1900.
The X10 mini will be available in selected markets from Q2 in the colours Pearl White, Black, Pink, Lime, Red and Silver
The X10 mini pro will be available in selected markets from Q2 in the colours Black and Red.
Sony Ericsson is also introducing the Portable Stereo Speakers MS450, to deliver rich on-the-go sound and the Hi-Fi Headset MH810 with remote with superior audio and remote media and call handling.
Xperia™ X10 mini and X10 mini pro
Camera
5 megapixel camera
Auto focus
Geo tagging
Photo and video light
Sony Ericsson Album application
Video recording
Music
Bluetooth™ stereo (A2DP)
Music player
PlayNow™
TrackID™
Web
Bookmarks
Pan and zoom
WebKit web browser
Communication
Sony Ericsson Timescape™ with...
- Facebook™ status updates, friend's photo, inbox messages and friend requests
- tweets, replies and direct messages from people you follow on Twitter™
- incoming text and picture messages
- missed calls
Messaging
Email
Instant messaging
Microsoft Exchange ActiveSync®
Picture messaging (MMS)
Predictive text input
Text messaging (SMS)
Design
Auto rotate
Full slide out keyboard (X10 mini pro only)
Picture wallpaper
Touchscreen
Entertainment
Infinite button
Quadrapop game
Sony Ericsson FM radio
Video player
Video streaming
Organiser
Calendar
Flight mode
Phone book with dialer
Sony Ericsson Home with widget
Tasks
Location-based services
A-GPS
Google Maps™
Wisepilot™ turn-by-turn navigation* (free trial version)
Connectivity
3.5 mm audio jack
Bluetooth™ technology
Micro USB connector
NeoReader® barcode scanning app
Sony Ericsson Sync
USB mass storage support
USB support
Wi-Fi™
Google™ Services
Android Market™
Gmail™
Google Maps™ with Street View
Google Search Widget
Google Talk™
Google Voice Search™**** The Google Voice Search service is not available in all markets
YouTube™
Screen
16,777,216 colour TFT touchscreen
2.55 inches
240 x 320 pixels (QVGA)
Scratch-resistant
Accessories
In-Box:
Sony Ericsson Xperia™ X10 mini/ Xperia™ X10 mini pro with battery
Micro USB cable for charging, synchronisation and file transfer
Stereo portable handsfree
2GB microSD™ memory card
User documentation
Optional:
Portable Stereo Speakers MS450
Hi-Fi Headset with Remote MH810
Facts
Xperia™ X10 mini:
Size: 83 x 50 x 16 mm
Weight: 88 grams
Phone memory: Up to 128MB
Memory card support: SanDisk microSD™, up to 16 GB
Memory card included: 2GB
Operating system: Google™ Android 1.6
Processor: 600 MHz Qualcomm MSM7227
Talk time GSM/GPRS: Up to 4 hours
Standby time: GSM/GPRS: Up to 285hrs
Talk time UMTS: Up to 3.5 hours
Standby time: UMTS: Up to 360 hrs
Xperia™ X10 mini pro:
Size: 90 x 52 x 17 mm
Weight: 120 grams
Phone memory: Up to 128MB
Memory card support: SanDisk microSD™, up to 16 GB
Memory card included: 2GB
Operating system: Google™ Android 1.6
Processor: 600 MHz Qualcomm MSM7227
Talk time GSM/GPRS: Up to 4 hours
Standby time: GSM/GPRS: Up to 285hrs
Talk time UMTS: Up to 3.5 hours
Standby time: UMTS: Up to 360 hrs
Availability and versions
Networks
UMTS HSPA 900/2100
GSM GPRS/EDGE 850/900/1800/1900
UMTS HSPA 850/1900/2100
GSM GPRS/EDGE 850/900/1800/1900
Available in selected markets in Q2 2010
Colour
Xperia™ X10 mini:
Black
Pearl White
Lime
Pink
Red
Silver
Xperia™ X10 mini pro:
Black
Red