GeeksPhone One : les caractéristiques et une vidéo !
Nous vous parlions du Geeks'phone One en mai dernier (le premier androphone "made in Spain"), voici que le projet avance et se confirme.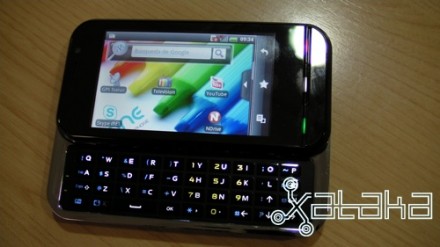 Les caractéristiques sont cette fois validées, et le prototype presque finalisé. On remarquera l'absence de compas, mais aussi le relifting de la home. Bref, un projet espagnol d'androphone qui va faire parler de lui à coup sûr.
Form factor: Full screen candy-bar with flat sliding keyboard
OS: Android-based OS with custom UI
Platform: Qualcomm 7×25 Baseband
Processor: 528 MHz ARM11 (ARM1136EJ-S) Jazelle™ series
Chipset: Qualcomm MSM7225
DSP/RIL: Qualcomm radioOne QDSP5000
RAM: 256Mb mDDR
ROM: 256Mb NAND
Radio: GSM 850/900/1800/1900 & HSPA 2100 (7.2mbps/5.7mbps)
Antenna: Ethertronics Hi-Gain active omni antenna (GSM/WiFi/GPS/BT)
Display: 3.2" WQVGA Fujitsu MVA hybrid-resistive touchscreen
Keyboard: Virtual and 40-key physical QWERTY slider (d-pad and fn keys)
Camera (main): 3.1 megapixel HD camera with AutoFocus
Camera (front): 0.3 megapixel fixed-focus camera
WiFi: Marvell 802.11 b/g
GPS: SirfStar3 with DGPS (WAAS/EGNOS)
A-GPS: Ephemeris QuickFix™ with database auto-update (fetnet server)
Bluetooth: long range BT 2.1 compliant
USB: MicroUSB Client (U-Disk system with SD Reader and USB-modem)
Accelerometer/E-Compass: Yes (3-axis) / No
Storage: up to 32GB via MicroSD (SDHC & SDIO standards)
F-Keys: Call (green), Hang (Red), Multifunction (White), Camera, Volume slider (with mute lock), Power & 3 virtual keys (Menu/Home/Back)
Audio Subsystem: Wolfson DAC/CODEC (ALSA)
Speakers: 2×1 watt RMS wide-range speakers
Microphone: high-end dynamic microphone with digital noise suppression
Headset jack: 3.5mm Headset/Handsfree minijack
Battery: 1110 mAh 3.7V Li-Po
Size/Weight: 110 x 55 x 14 mm / 123g
Others: Includes a retractile stylus; Biodegradable plastic housing.
La vidéo à la suite, et le blog officiel du projet par ici.